RV Park Rules
Camp-ground and RV Park Rules:
As our guests, please observe the following rules,and most importantly, let us be reminded of the Golden Rule: "Do unto others as you would have them do unto you."
Please respect the property of neighbors and do not trespass or cut through sites.
Campers: CHECK-IN time is Noon and CHECKOUT time is 11:00.
Parents are fully responsible for the behavior and safety of their children.
The speed limit for the park is 4 1/2 MPH. Please drive slowly and watch for children.
Please park your RV and car / truck in your designated site only
Quiet time is 10:00 PM. Excessive noise, nuisance, public drunkenness, nudity, and fireworks are not permitted.
Pets are allowed at all sites. Pet owners are responsible for cleaning up after their pets. Pet owners are fully responsible for the behavior and safety of their pets
Campers are responsible for keeping their sites clean. Please do not throw cigarette butts or other trash on the ground. Smoking is not permitted inside any building in the park.
Please use garbage dumpsters located behind site #7.
Campers are solely responsible for any injury or accidents they are involved in.
Fires are permitted in all sites only in ground fire rings.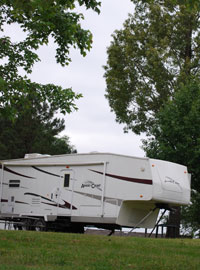 CANCELLATION POLICY
There is a Cancellation Fee equivalent to two nights at the daily rate.
Refunds for amounts paid over the one non-refundable night will be made if the reservation is cancelled two (2) weeks prior to arrival date.
Only Camping Credits (vouchers), minus the one non-refundable night, will be given for cancellations made less than two weeks prior to arrival date. (Camping Credits expire 1 year after original reservation date, and cannot be used on holiday weekends or transferred).
Early departures for any reason are not eligible for refunds.
All refunds are determined solely by Hochatown RV Park management. Request for special refunds or credits must be made in writing providing full proof of emergency circumstances claimed.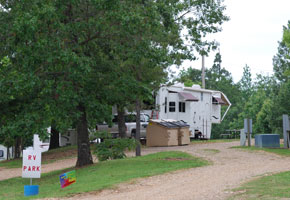 TAX
– All rates subject to 8.5% Oklahoma tax.
ADDITIONAL PERSONS:
Persons exceeding 5 per site will be charged $5.00 per person per day in the spring and summer seasons.
STORAGE:
Trailers can be stored at the park for a monthly rate of $100.00 plus tax
RENTAL TERMS AND CONDITIONS
You must agree to rent the assigned land site for the specified number of days at the active rate upon your arrival (rates are subject to change without notice). You must agree to abide by all park rules and regulations, and to observe posted speed limits. Failure to do so will, at the discretion of Hochatown RV Park management, be sufficient reason for eviction from the premises. You must understand and agree that Hochatown RV Park is not responsible for loss, damage, or injury to any person, vehicle or other personal property.
Every effort will be made to satisfy your requests. However, please understand that reservations, special requests, and specific site selections are subject to availability.
To make RV Park Reservations please call 580-494-6765 or 580-236-2521 and of course you may E-mail The RV Park with your request.